Bakeware
My favourite vintage styled mixing bowls
'Things were better in my day'  we are all used to the older generation saying. And whilst this isn't exactly true in all kitchen gadgets ( ah hem…fan assisted ovens!!),  when it comes to some kitchen equipment they are definitely preaching the truth.
Back in the day  kitchen equipment, utensils and crockery was made to last. I remember my mum having the same beige mixing bowl throughout my childhoood, and as other bowls came and went, being smashed, scratched or melted (usually by myself during my first attempts at baking), the trusty old beige mixing bowl stood the test of time and she still uses it today..and it looks as new as ever.
Check out this collection of vintage (or at least made like vintage) mixing bowls you can add to your kitchen and maybe even pass on to your little ones if they stand the test of time.
Rayware Mason Cash Cane S9 Mixing Bowl

£18.95
Just like the mixing bowl that found from yesteryear, this Mason Cash styles vintage styled mixing bowl from Rayware is made from hardy, chip resistant earthenware. The bowl is not only durable, but has been made to withstand the pressures of a modern kitchen – like the dishwasher and the freezer! The bowl is a design imitation of the original Mason Cash mixing bowls, and in my opinion is just as good.
The bowl comes in several different sizes, and Rayware offer plenty of other durable and matching bakingware to complete your vintage kitchen!
Mason Cash Heritage Mixing Bowl
£23.99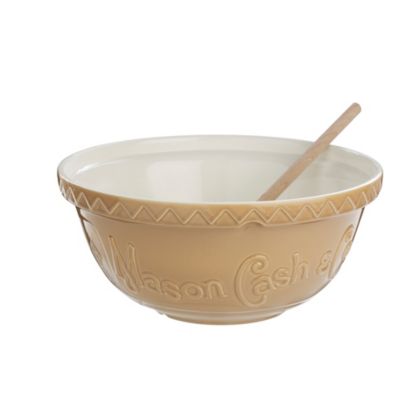 The original (and many would say the best!) vintage mixing bowl. Mason Cash pottery has been dated back to the early 1800's.  Many bakers would swear their dear old gran's health on the sturdiness of these bowls, and who can blame them with the fantastic reputation Mason Cash has been over the last 100 years!
This particular vintage styles mixing bowl is embossed with the companies original logo, and was commission to celebrate the history of this iconic company.
Green Mason Cash Hedgehog Mixing bowl
£15.00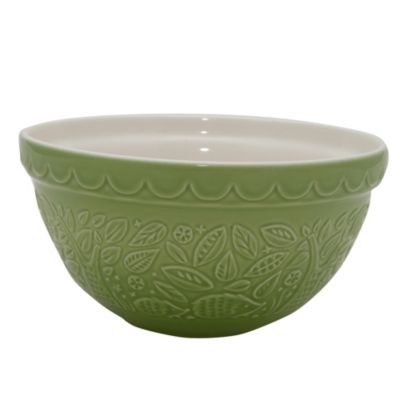 This 21cm green earthenware mixing bowl from Mason Cash is decorated with embossing of hedgehogs and leaves. The fired grass green colour of the bowl helps to give the bowl that classic vintage look, whilst the forest inspired decoration makes this bowl a little more unique than the standard beige patterned bowls. As with all other Mason Cash mixing bowls, this one is super sturdy, shouldn't chip with ease, and its heavy weight will stop is spinning around your kitchen surface as your trying to whip your cake mixture.
Pastel Vintage Style Mixing Bowls with spout 

£21.99
I loved the spout and handle in these jug style vintage pastel mixing bowls. These two are even pretty enough to be used to serve whipped up goodies like cream or custard, and the spout means pouring out cake mixtures are a little bit less messy.
The pastel and colour, and delicately grooved edges give these a super vintage look – the only issue I haver with these are the rather cheesy text that has been printed on the inside – "Happiness is homemade', and 'Enjoy the little things'..if I had these in my home I would probably try my best to scratch these off!
The real deal – genuine vintage mixing bowls on Etsy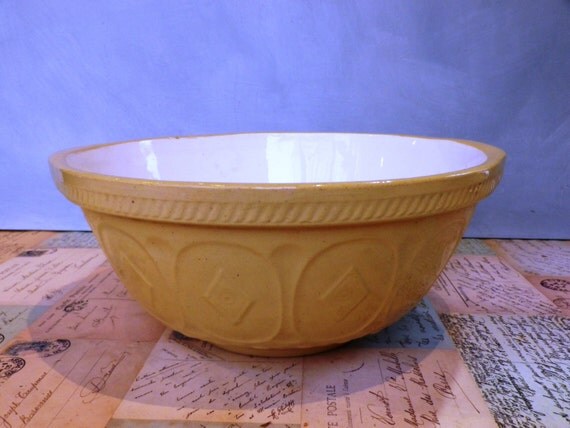 If you want to get your hands on a genuine vintage mixing bowl, you won't find you have to look too far. Try having a look in second hand or antique shops in your area, or check out online sites that specialise in antiques. Etsy has a great selection of vintage mixing bowls available from all over the world.