Lego is just as trendy now as it was when those little bricks first started being manufactured in 1949. Both adults and kids buy and play with these colourful bits of plastic, and with lego buying the rights for every popular cartoon and even releasing their own movie 'The Lego Movie', its unlikely their popularity will decline soon.
If your kid or adult friend is demanding that you used your baking skills to create a lego themes cake, there are hundreds of different ways you could go about it depending on your skill level, how much time you have (and how much you really care about this person you are baking for!)
Make a big lego block cake
This one is super easy to make and would make a good project for beginners. There are lots of different ways you do can do this one, but it essentially involves creating a large brick like sponge, sticking 6 circular shaped sponged on top, and then icing the whole lot.
In this detailed tutorial on ishouldbemoppingthefloor.com, oreo cookies are used as the circular bits on the top of the block, and the whole thing is covered with icing.
This block tutorial from InKatrinasKitchen, shows a slightly different method for covering the cake, by warming the icing up so that the cake has a smoother finish. Katrina has even managed to pipe the words Lego onto each of the circles which could be fun to attempt if you have a steady hand.
Make a big lego head cake
The key to this one looking good, is using good quality fondant, and working patiently to get a nice smooth finish to your lego head. No-ones going to be impressed with a bumpy yellow head, so make sure you use a good fondant smoother.
This fab tutorial from ashleemarie.com shows you how to make a lego head cake with a chocolate sponge, and chocolate ganache. You should'nt need much more baking equipment that what's already in your cupboard.
The best part of this cake will be painting the face onto the lego head, and if you feel so inclined you could always give it a cheeky grin or a wink. Use a good edible marker pen like this one from rainbow dust. If you're not naturally good at drawing, practice a few times on a piece of paper, and mark out where each of the eyes and the mouth should go with a small dent in the icing to avoid ending up with a scary looking mismatched eyes.
The one criticism I have about this recipe is that the top of the head is made out of cardboard, and covered in icing – this bit can easily be made from another shaped sponge, or a biscuit or a couple of wagon wheels – and then the whole cake will be edible!
Lifesized lego brick cake
These types of lego cakes are by far the coolest looking, and this is the one I attempted for a friend who is obsessed with lego on her 30th birthday.
Grated Nutmeg has a very detailed tutorial on making a three tiered lego cake.
For my cake I ended up using this lego cake tutorial from Cake Talk. This tutorial is easy to follow and actual fairly simple. It is however very time consuming, but this commitment of time is kind of unavoidable if you are making a cake this cool! In this tutorial, marshmallow fondant is used. This is the perfect type of fondant for this cake as it tastes good, and keeps its shape.
In order to make this type of cake you will need to make some fondant moulds, or just do as I did and buy some online. If you are going to buy a mould online – try and go for one that has been made from genuine lego bricks so that you get the tiny 'lego' log on the top of each circular .
One important tip when using these moulds is to always ensure you put the icing in the freezer before popping them out. That way you will get super crisp lines on the lego blocks – making them all the more realistic. Freezing them does mean you have to wait a for each icing brick to freeze before carrying on with the next, so I would advise buying a batch or block of moulds to speed things up (and make sure you start making your bricks in plenty of time).
For some extra personalisation, you can cut out your own letters in the lego font like the lego cake in the image above shows. You should be able to find some letter templates for the lego font online. Simplky choose the letters you need, print them out and then use these to cut around some rolled out fondant icing.
In addition to making your fabulous lego cake you could carry on the lego theme by making some cupcakes and sticking some homemade blocks of lego icing on, or buying some of these lego themed fairy cake edible stand up toppers.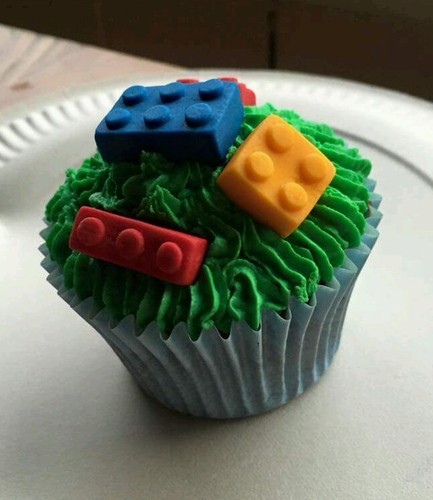 I would love to see the results of the any lego cakes you have had a go at, Post them here or email to me lou[at]bake-me.co.uk